EZ Wallet 101: What is a Community Manager?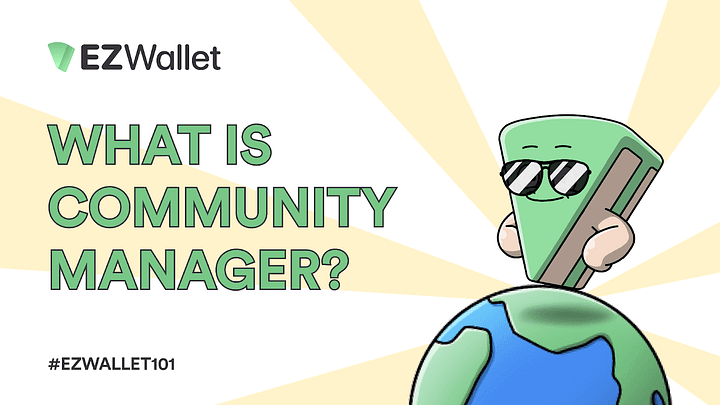 Welcome back to EZ Wallet 101, the all and everything Web3 and blockchain series of EZ Wallet. In this article, you will learn more about the Community Manager role. Who are they, and why are they important for a web3 project?
🤔 First stop, let's talk about who they are.
Social media has turned the relationship between customers and brands — Which is why the community manager role is vital. Simply put, a community manager is a bridge between customers and IP brands.
The most critical part of this role is that you gotta build up the brand's personality and customer trust, which can ultimately lead to increased awareness and company performance.
😲 But what do they do anyway?
Well, Community managers can come from a variety of backgrounds. They can come from engineers and human resources to journalism. Anything can make a great CM because being one is not determined by experience. It's all about the skill.
Let's dive in
1️⃣First, a community manager must be knowledgeable about and across the business. They should be able to rely on their experiences with their brand to confidently address their audiences or tap into internal resources to handle any issues that may arise in the community. Beyond a working knowledge of businesses, community managers must also build productive, professional relationships internally and externally to be a more authentic and reliable brand.
2️⃣ Secondly, community managers gotta be extremely adaptable to preserve and promote the brand tone and event. A long checklist is what they have in the morning with all things needed to do daily. This role can sometimes be boring. The opportunity for this role is critical when you can see new faces, chat with them and create a healthy and professional relationship with partners, contributors, and community members.
3️⃣ Beyond having good soft skills, the greatest community managers are always looking into the current hot topics and trends. By keeping up with these issues, community managers can better engage with the right audiences and provide them with the most recent information and best practices.
Why are they so important?
As mentioned above, community managers bridge the gap between customers and brands; in other words, They will be the ones who cover the voice of the brand as well as bring the brand's image into the everyday stories in the community.
Community managers also document and report the engagement they notice on a minimum of a monthly basis, in addition to the direct connection between the brand and its audience. The community manager team will mainly observe the feedback from the members so that they can assist in determining whether or not followers are perplexed and what sorts of changes they observe in online forums. To engage target audiences the most successfully, some managers claim to have acquired an intuition for the psychology of their audience. As a result, they can adapt and alter their outreach strategy.
Lastly, community managers keep in mind their ideal audience, shaping content and communications to target the right audience rather than simply building a larger one.
Well, if you have read to this point, we bet that you are interested in being the next cool and awesome Community Manager,
Here are some ways you can start:
👉 First Linkedin.
Yes, the old-time way is still effective. No need to be worried about your background, all you need to do is to convince the recruiter to have you on the interview and show them how you're gonna make their community active and be able to build up the culture.
👉 Secondly, send your favorite brand an email or message.
Well, this way has been proven to work thousands of times by doing that, you are showing that you can solve the problem that those brands are having.
👉 Last but not least, become an ambassador.
Yes, even Binance, one of the world's leading web3 brands, has its own ambassadors program called Binance Angel, which will allow you to gain via your contribution to the project's growth. And right now, EZ Wallet is opening up the form for community members to apply for the Advocates Program 2.0, so you might wanna check it out here.
If you are interested in content like this, give us a follow and a clap; we will see you guys in the next one.
Follow EZ Wallet On Social Media
(Cause it's free!)
Twitter | Discord | Newsletter