EZ Wallet 101: What is Virtual Land NFT?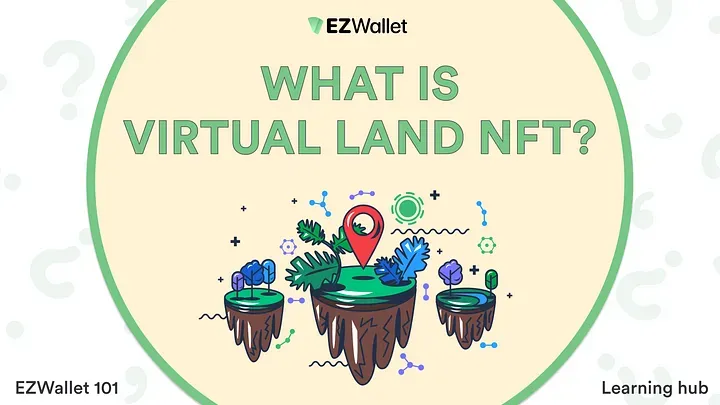 Welcome back to EZ Wallet 101, the all and everything Web3 and blockchain series of EZ Wallet. In this one, you will learn more about one of the cool features of the app and how it will become your best friend down on the crypto road.
The advent of the Metaverse has been transformative for many industries, although not without it's bumps along the way (thanks Mr. Zuckerberg). The trajectory the Metaverse will take in being a part of people's lives is hard to predict, as it's still in its infancy. Even before the rise of crypto and decentralized technologies, virtual spaces, gaming, and online communities have increasingly become an important part of everyday life. Everything from the rise of social media platforms to online gaming communities has brought two very important facts to the forefront. Specifically, virtual spaces and virtual identities are important to many people, and increasingly, people want ownership over these spaces and their digital assets.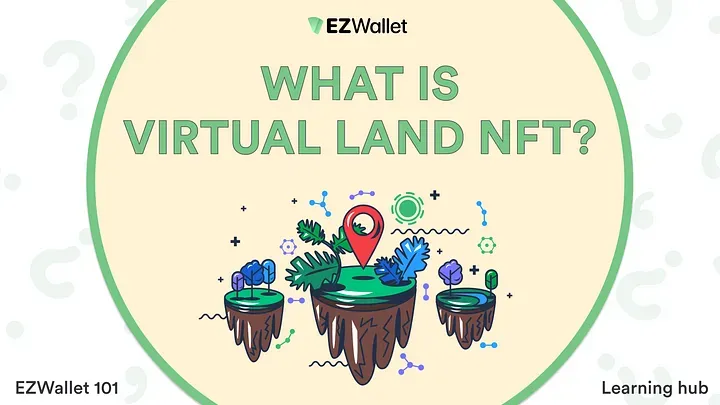 What is Virtual Land NFT?
📈 The Rise of NFT Gaming
An NFT is simply unique digital data that can be written to the blockchain on a non-fungible token. Whereas currency is meant to be interchangeable, NFT uses blockchain to verify that which is NOT interchangeable. When discussing NFT's role in gaming, one probably thinks about their character and cosmetics. In-game monetization has been a hot-button topic for quite some time, with many calling game companies use of them as exploitative, often taking advantage of their younger demographics. The most egregious example of recent is Dialo Immortal, which some players have estimated could cost $300,000-$600,00 to max out a single character.
The system is clearly exploitive, with many game studios catering to e-sports whales and streamers to generate max profit without regard for everyday players. This has led to the rise of NFT gaming, as more and more players want to have real ownership of their in-game assets. The most important assets to players are their character and character cosmetics, as these are how they represent themselves in the digital world. But can the concepts of decentralization and ownership go further? This is where NFT virtual land comes into play!
🌄 What is NFT Virtual Land?
NFT land is virtual, ownable digital land inside the Metaverse. In the same way that NFT technology can be used to verify ownership of other digital assets, NFT land is ownable and unique. It can be bought, sold and traded on the NFT market just like any other NFT. Popular NFT land platforms include The Sandbox and Decentraland. NFT land gives owners a variety of unique utilities, and the value of most NFT land is directly related to its utility within the Metaverse. Let's take a look at some of the utility features of NFT land and how they can expand the capabilities of the Metaverse for users.
🕵️ What Can I Do With My Virtual Land NFT?
Virtual land has some specific features that make them unique among NFTs used in the Metaverse.
Socializing: People love going to live events, and NFT land can be used to host your own virtual events, including concerts or conferences.
Advertising: Advertising investment is always available for high-traffic areas. Many YouTubers earn more than reputable cable networks because they pull in so many viewers. NFT land can be leveraged to gain advertising revenue if your land is in a popular or frequently visited area of the Metaverse.
Communication: Virtual spaces have many utilities that don't always have to be profitable. NFT land can be used for virtual concerts, or simply as a space for you and your friends or business. In-person meetings are often more productive than Zoom calls because of the in-person interactivity and nuance. Imagine being able to hold a virtual meeting that can replicate in-person meetings without the hassle of traveling.
Gaming: Many games that sell NFT land give landowners special privileges. In particular, many games offer in-game currency or resources that can be gathered or farmed using your new property.
📌 Conclusion
Currently, it's hard to know which virtual worlds will become popular and which ones will die out. Nevertheless, NFT land ownership can give game players and investors special advantages. Whether you're looking to simply farm as many resources as you can for a certain game, or create the perfect virtual reality space for you and your across-world friends to hang out in, NFT Land will play an important role in the future of the Metaverse.
📝 About EZ Wallet:
EZ Wallet is on the journey to make crypto more accessible and convenient for everyone, from the crypto newbie to the seasoned crypto vet. The EZ Wallet team is a diverse and dynamic team aiming to create a non-custodial wallet that makes everyone's journey into the crypto world easier, with a more friendly interface that simplifies the Crypto process while simultaneously pushing the boundaries of what advanced features a digital wallet can provide.
👉 Follow EZ Wallet On Social Media
(Cause it's free!)
Newsletter | Discord | Twitter