EZ Wallet 101: The Genesis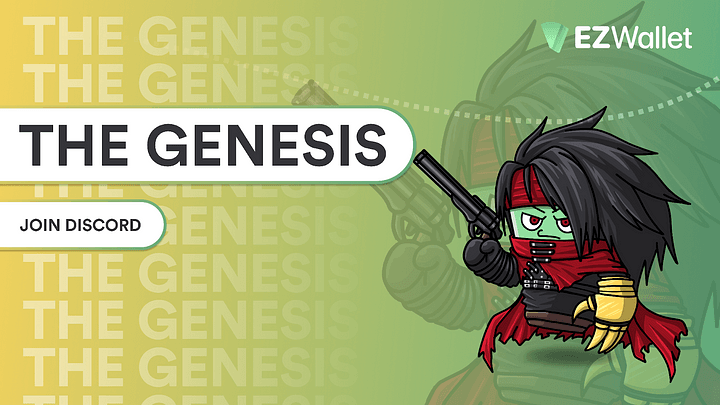 Welcome back to EZ Wallet 101, the all and everything Web3 and blockchain series by EZ Wallet. We're set for something different this time, called 👹 The Genesis. So what is Genesis, and why should you join the EZ Wallet community and become one? Let's dive in!
👹 What is Genesis?
It's not just a name. It's something different! The team was thinking of a perfect successor for the OG-Original role in the community, from which the Genesis role was born.
🔥 What makes it different?
🙋 The name
When the OG was created, it was for the early contributors of the community with no blatant benefits and duties. So random that it has fogged the eyes.
💵 The benefits
By joining the Genesis community, you can….
Shine your name on the weekly leaderboard.
Enable the contribute-to-earn rights.
Receive a customized EZ Wallet avatar.
Higher chance to be one of the next advocates (See the details).
Random giveaways.
Create your own guild in the EZ community.
📈 The numbers
From 20 OGs only, we now expand it into 60 (maybe more) cool and handpicked members to join the Genesis community.
✨ What makes Genesis?
To pursue the role of Genesis, you will need to reach these requirements:
Reach at least level 15 in the community (chating, vibing, meme-sharing)
Show your passion for EZ Wallet on social media (Twitter, Discord, Medium)
Own one (1) EZ Wallet custom avatar by joining the monthly events.
About EZ Wallet:
EZ Wallet is on the journey to make crypto more accessible and convenient for everyone, from the crypto newbie to the seasoned crypto vet. The EZ Wallet team is a diverse and dynamic team aiming to create a non-custodial wallet that makes everyone's journey into the crypto world easier, with a more friendly interface that simplifies the Crypto process while simultaneously pushing the boundaries of what advanced features a digital wallet can provide.
Follow EZ Wallet On Social Media
(Cause it's free!)
Newsletter | Discord | Twitter